Most clients come to us with between 500 and 2000 connections. We have a unique methodology for working your account to dramatically expand your connections. It's important to note that these connections are targeted, these leads are your actual, high-value prospects that we identify together and work to connect you with directly.
Our focus is always on generating targeted leads with prospects that are in the market for your services, uncovering the opportunities that are of most value to your company now. Most companies have realized that, when done right, social media can be a powerful tool for driving sales.
The problem is that oftentimes companies don't have a real idea of how to leverage social media in a way that gets results. With our LinkedIn marketing services, we can integrate social media with the rest of your inbound marketing efforts to help you drive sales and generate highly targeted leads. Our goal is to build long-lasting, mutually beneficial relationships with our customers.
A complete LinkedIn profile can help you connect with opportunity. Learn how to showcase your unique professional story through your experience, skills, and education. Add information like volunteer work, publications, and more for a well-rounded profile. Also, learn how recommendations and skill endorsements can strengthen your profile.
The top part of your profile is called your introduction card, and it's the first thing that people see when they view your profile. Use this section to display information that best describes your current personal and professional status. Introduce yourself, and showcase things you want people to know at a glance!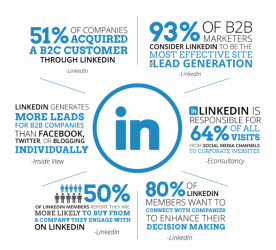 You control the visibility and reach of your LinkedIn profile. Learn more about your profile privacy settings, customizing your public profile URL, and more.
Members with a profile photo on LinkedIn can get up to 21 times more profile views than members without. Get noticed! Find tips for improving your professional image with a profile photo, along with details on background photos, visibility settings, and more.
Manage your connections on LinkedIn, from viewing or removing connections to controlling who can see them. Learn how to leverage second and third degree connections, as well as import and sync your contacts with your LinkedIn account to help you stay in touch with colleagues and leads.